2008.08.06: August 6, 2008: Headlines: COS - Romania: Safety: Times Online: Romania struggles with bear invasions after deadly attack on Bangladesh RPCV Kathryn Evans
---
Peace Corps Online: Directory: Bangladesh: Peace Corps Bangladesh : Peace Corps Bangladesh: Newest Stories: 2007.06.28: June 28, 2007: Headlines: COS - Bangladesh: COS - Bulgaria: Obituaries: NGO's: Daily Journal/Sunday Journal: Obituary for Bangladesh RPCV Kathryn Evans : 2008.08.06: August 6, 2008: Headlines: COS - Romania: Safety: Times Online: Romania struggles with bear invasions after deadly attack on Bangladesh RPCV Kathryn Evans
---
---
Romania struggles with bear invasions after deadly attack on Bangladesh RPCV Kathryn Evans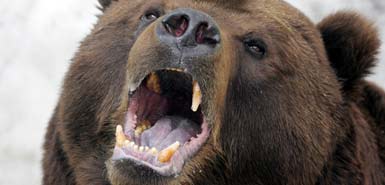 Last year, an American woman, 31-year-old Kathryn Evans, was mauled to death as she hiked with six others on a mountain trail about 25 miles south of the town. Two others were injured.

Romania struggles with bear invasions after deadly attack on Bangladesh RPCV Kathryn Evans

Romania struggles with bear invasions after deadly attack
A brown bear

Hannah Strange, Environment Reporter

Every summer, visitors from around the globe flock to Romania's Carpathian mountains, attracted by their towering peaks, volcanoes and gorges – and by the thriving population of brown bears, one of the last remaining in Europe.

But while tourists come to observe the wildlife, the wildlife is seeking out a lifestyle elsewhere.

Romanian officials are concerned about the bears' increasing forays into population centres after several deadly attacks in recent years. In the latest incident, a 20-year-old man was ripped to shreds by a large female foraging for food, as he slept on a bench in an alley near downtown Brasov, central Romania.

Local hunters, authorised by the country's Environment Ministry to track down the animal to prevent further attacks, found her the next day not far from the place where she had claimed her victim. As she started to charge at them, they shot her dead.

The historic town, nestled on the lower slopes of the mountains and surrounded by forest, is the scene of most of the country's bear attacks. Three years ago, one person was killed and nine others severely wounded by a rampaging bear at a picnic spot on the outskirts of Brasov, while in 2004 the area was put on rabies alert after an infected bear killed two men and injured six others.

Last year, an American woman, 31-year-old Kathryn Evans, was mauled to death as she hiked with six others on a mountain trail about 25 miles south of the town. Two others were injured.

Romania's section of the Carpathian mountains is home to almost half of Europe's brown bears, and residents of Brasov are not unaccustomed to stumbling upon hungry invaders with snout buried deep in their dustbins – or even their kitchen cupboards.

"One day I got a call from a person who said: 'there's a polar bear in my pantry'," says one hunter in the area. Upon arriving at the flat, he found a female bear covered in flour, after having apparently raided the larder.

The same animal gave residents a shock a few months later when she climbed with her cub to the third floor of an apartment building, looking for food, the hunter added. The two were captured after a few hours.

Last September, another bear was found with its head stuck in a container of leftover food in a sanatorium in Predeal, some 90 miles north of Bucharest, after it had climbed in a window.

Dorel Noaghea, a 51-year-old forester who says he has "run into hundreds of bears" during outings in the Carpatian mountains, says that bears from the area surrounding Brasov began venturing into town in the late 1970s, when the holiday resort started spreading to the neighbouring woods.

Frightened at first, the bears increasingly headed into urban areas in search of food, unfazed by the amused locals looking on – who consequently nicknamed them "binmen bears".

Mr Noaghea, who is head of the Brasov' hunters' association, claims that man was to blame for the dozen incidents in recent years in which people were killed or injured.

"Brown bears usually don't attack people. On the contrary, they'll run away if they see one," he said.

But man, he said "does not respect the bears' habitat, or worse, tries to turn them into a tourist attraction," for example, offering them food to allow visitors to take pictures alongside them.

Wherever the responsibility lies, the bears' increasingly frequent city outings have prompted authorities to seek a solution.

"We have launched a relocation programme for binmen bears in distant regions where they will find sufficient food, so that they will want to stay," says Mihai Manoiu, who is in charge of biodiversity at the Environment Ministry.

Romania, which currently has between 6,000 and 6,200 brown bears, suggested exporting them to countries where the species is dying out. "But since they were binmen bears, those countries said no," he added.

But the authorities said that they would not lift hunting restrictions, despite pressure from hunters, especially as the European Union is monitoring the issue closely.

In the 2007-2008 season, Bucharest authorised 333 bears to be hunted down, "and only in regions where we reported damage or deadly incidents," says Mr Manoiu.



---
Links to Related Topics (Tags):

Headlines: August, 2008; Peace Corps Romania; Directory of Romania RPCVs; Messages and Announcements for Romania RPCVs; Safety and Security of Volunteers
---
When this story was posted in December 2008, this was on the front page of PCOL:






Peace Corps Online The Independent News Forum serving Returned Peace Corps Volunteers




---




Director Ron Tschetter: The PCOL Interview
Peace Corps Director Ron Tschetter sat down for an in-depth interview to discuss the evacuation from Bolivia, political appointees at Peace Corps headquarters, the five year rule, the Peace Corps Foundation, the internet and the Peace Corps, how the transition is going, and what the prospects are for doubling the size of the Peace Corps by 2011. Read the interview and you are sure to learn something new about the Peace Corps. PCOL previously did an interview with Director Gaddi Vasquez.

---

---

---

---






Read the stories and leave your comments.


---


Some postings on Peace Corps Online are provided to the individual members of this group without permission of the copyright owner for the non-profit purposes of criticism, comment, education, scholarship, and research under the "Fair Use" provisions of U.S. Government copyright laws and they may not be distributed further without permission of the copyright owner. Peace Corps Online does not vouch for the accuracy of the content of the postings, which is the sole responsibility of the copyright holder.

Story Source: Times Online

This story has been posted in the following forums: : Headlines; COS - Romania; Safety

PCOL42613
84