2009.01.05: January 5, 2009: Headlines: COS - Mongolia: Music: Chronicle Times: Peace Corps Volunteer Brett Cambell writes: Rockin' the 'yatga'
---
Peace Corps Online: Directory: Mongolia: Peace Corps Mongolia : Peace Corps Mongolia: Newest Stories: 2009.01.05: January 5, 2009: Headlines: COS - Mongolia: Music: Chronicle Times: Peace Corps Volunteer Brett Cambell writes: Rockin' the 'yatga'
---
---
Peace Corps Volunteer Brett Cambell writes: Rockin' the 'yatga'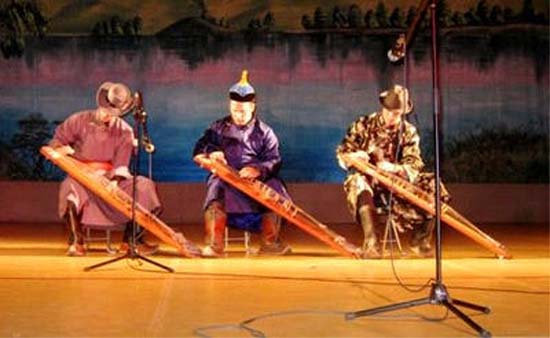 A yatga is a 13 stringed guitar-like instrument that is laid at an angle on the player's leg and the floor and the strings are plucked and flicked. The other national Mongolian instrument is called the maren huur which is a two-stringed violin type instrument that is placed on the ground and played vertically. Two other guys in my group were also chosen and at that point we began our two-week adventure as yatga players.

Peace Corps Volunteer Brett Cambell writes: Rockin' the 'yatga'

Rockin' the 'yatga'

Monday, January 5, 2009

Caption: Hand-made stringed instruments are very popular in Mongolia, where Mongolians love their music, colorful costumes, and dance. Brett Campbell, our U. S. Peace Corps "Man in Mongolia," is learning to play the yatga, one of that country's most popular instruments. Here, Campbell, left, performs for real at a celebration with U. S. Peace Corps pals Stefan and Jeff, in full Mongolian regalia. Photo contributed

My first three months in Mongolia were spent in a small town where I received crash courses in language training and teaching.

I lived in the town with 10 other soon to be Peace Corps Volunteers (PCVs) (we weren't actually Volunteers yet, we were only considered "trainees"). We started in June and by the beginning of August, after a long and grueling summer of class from 8 a.m. to 4 p.m. everyday, things began to wind down. It was time to prepare for a swearing in ceremony which all of the trainees who survived the summer would attend (out of a total 65 who began the process, 58 stuck it out).

The swearing - in ceremony was to include speeches from the American ambassador to Mongolia, Mongolia's minister of education, and rumor had it, President Enkhbayer himself (Mongolia's president). There would also be a graduation-esque certificate walk, and that was followed up by us newly sworn-in PCV's doing traditional Mongolian performances of either dancing, singing or playing an instrument.

My group had been practicing a light-hearted rendition of a beautiful Mongolian love song that in our version was to involve two men, one in drag, and lucky me, I didn't have to participate (FYI: there are pictures of me floating around from Halloween circa 2005 wearing nothing but a diaper (I was a baby), and if another were to surface of me in drag, my political aspirations would surely be destroyed).

Well, it turned out the Peace Corps staff didn't think that would sit well with the Mongolian dignitaries so our idea was scratched about two weeks before the ceremony, and we had to scramble to put something else together.

When our performance was canceled, I jumped at the chance to hide behind other people, so I wouldn't have to be involved in the new one. Two weeks? Who were we kidding? Whoever had to get on that stage was doomed to a high-definition camera-video on YouTube, of them butchering a beloved Mongolian song or dance. Their only hope was to do it so badly that even YouTube would block it from their site.

Well, as you have probably already figured out, I wouldn't be writing this article if I hadn't been part of the performance, so yeah, I was chosen (or forced, however you want to look at it) to play a Mongolian national instrument called the yatga (pronounced "yatag").

A yatga is a 13 stringed guitar-like instrument that is laid at an angle on the player's leg and the floor and the strings are plucked and flicked. The other national Mongolian instrument is called the maren huur which is a two-stringed violin type instrument that is placed on the ground and played vertically. Two other guys in my group were also chosen and at that point we began our two-week adventure as yatga players.

It turns out I have nimble fingers. I could move around that yatga like Jimi Hendrix could move around a guitar (that is if Jimi Hendrix had ten broken fingers and was playing with his toes). I had always wanted to be in a band. I've always dreamed of mastering an instrument, traveling the world and having women fall in love with me because of my talent. In the 10 minutes I had been playing I decided that I was going to be the first American master of the yatga and would travel the country showing off my talent. But my dreams were shattered after I found out that the yatga is considered a woman's instrument.

There was no time to despair over my fate. We had two weeks to learn an instrument and a song that would be performed in front of a large audience that would include some important people. So we got to work.

The first day went well. Stefan and Jeff, the other two trainees who would be performing with me, were making fine progress; that was until that night. Stefan all of a sudden decided that learning the Mongolian language was more important than learning a woman's instrument and in a matter of four hours our yatga trio had formed, and broken up (over what I think was really just creative differences).

Again, fate had dealt us a blow, but we had to trudge on. Jeff and I worked hard. Every day after language class we practiced till our fingers hurt (which was really only like a half hour; I may have nimble fingers, but they're delicate). We played and played and played until after a week of non-stop practice we had a firm grasp of the song. It was just in time too because we were to leave for Darkhan (which was the site of our concert) the next day and practice time would be hard to come by.

The night before we left for Darkhan, a miracle occurred. Our group got together for a party before we left, and who do you think showed up? Of all the Americans in our town (11), Stefan walked through the door. There was an emotional reunion and before the night was over, the old band was back together.

We left for Darkhan in high spirits and when we got there we were able to see the stage we would be playing on. It was a big theater and being on that stage turned my legs to jello. For the first time, I got nervous. I spent the next week trying to forget about the performance, but before I knew it the night had come.

After the speeches from the ambassador and others (not the president however) and receiving our certificates, the performances began. We were fifth in line. First was another yatga performance by a musical protege from a different training site named Tyson. We figured he would be good, but we didn't know how good until we saw him walk onto the stage holding a 26-string yatga, (Yeah, 26 strings. If there were five strings on mine I would have struggled) and he blew everybody away. It was like he'd been playing for years, and he played a song that was about 26 times harder than ours. The only thing going through my head at this point was, "Why couldn't we go first?"

A few performances later it was our turn. Stefan, Jeff and I walked out onto the stage and sat down under the lights, and before I had time to say "we need more practice" we were playing. Things started out fine, but then my nerves kicked in and my fingers started to freeze up. By the end of the song my once agile fingers were like rocks and I was fighting just to finish. After the last note, I fell back in my chair and sighed to what I am going to imagine was a standing ovation (I don't know, I was so nervous and the lights were so bright I didn't know what was going on).

The night had finally come and gone, and except for a few nerves, things went off pretty well. After the concert our band decided to break up for good and go our separate ways (literally, Stefan and I were sent to the Gobi Desert and Jeff was sent to Siberia).

In retrospect, if my two weeks as a yatga player taught me anything, it's that no matter what problems a person is faced with, life will still go on whether they're ready to or not.

It also taught me that if I want girls to like me for my musical talents, I need to play the drums.



---
Links to Related Topics (Tags):

Headlines: January, 2009; Peace Corps Mongolia; Directory of Mongolia RPCVs; Messages and Announcements for Mongolia RPCVs; Music; Humor
---
When this story was posted in January 2009, this was on the front page of PCOL:






Peace Corps Online The Independent News Forum serving Returned Peace Corps Volunteers




---




Director Ron Tschetter: The PCOL Interview
Peace Corps Director Ron Tschetter sat down for an in-depth interview to discuss the evacuation from Bolivia, political appointees at Peace Corps headquarters, the five year rule, the Peace Corps Foundation, the internet and the Peace Corps, how the transition is going, and what the prospects are for doubling the size of the Peace Corps by 2011. Read the interview and you are sure to learn something new about the Peace Corps. PCOL previously did an interview with Director Gaddi Vasquez.

---

---

---

---






Read the stories and leave your comments.


---


Some postings on Peace Corps Online are provided to the individual members of this group without permission of the copyright owner for the non-profit purposes of criticism, comment, education, scholarship, and research under the "Fair Use" provisions of U.S. Government copyright laws and they may not be distributed further without permission of the copyright owner. Peace Corps Online does not vouch for the accuracy of the content of the postings, which is the sole responsibility of the copyright holder.

Story Source: Chronicle Times

This story has been posted in the following forums: : Headlines; COS - Mongolia; Music; Humor

PCOL42639
85