1961.09.01: September 1, 1961: Bob Klein writes "Being First" about the First Group of Peace Corps Volunteers to go Overseas in 1961
---
Peace Corps Online: Directory: Ghana: Peace Corps Ghana : Peace Corps Ghana: Newest Stories: 1961.09.01: September 1, 1961: Bob Klein writes "Being First" about the First Group of Peace Corps Volunteers to go Overseas in 1961
---
---
Bob Klein writes "Being First" about the First Group of Peace Corps Volunteers to go Overseas in 1961




That the "future of the Peace Corps" really depended on us had been stressed by Shriver earlier in the day when he spoke to us at a perfunctory State Department "briefing" which seemed designed to reassure the briefers, not especially to inform us. He told us, "The President is counting on you. It's up to you to prove that the concepts and ideals of the American Revolution are still alive. Foreigners think we're fat, dumb and happy over here. They don't think we've got the stuff to make personal sacrifices for our way of life. You must show them. And if you don't, you'll be yanked out of the ball game." We had faced eerie psychiatrists, seven varieties of psychological tests, chilling stories of boa constrictor attacks, and the perils of partying in Strawberry Canyon above the Berkeley campus (I never knew they produced such large bottles of wine). Shriver could not daunt us. We were ready- to teach, if not to sacrifice.

Bob Klein writes "Being First" about the First Group of Peace Corps Volunteers to go Overseas in 1961

HERE TODAY, GHANA TOMORROW

Meeting President Kennedy

After the discomfort of the selection process, we were glad that training had been shortened by one week, ending on August 21. We were to report to Washington on Monday, August 28, for a White House event and then board our Pan Am charter to Accra. As early as July 23, I had written home:

"Good news! Our training program is being shortened by one week and we are being given leave from August 21 to August 28." And added in a later letter, "We are being flown to Ghana by chartered plane from Washington and will be allowed up to 216 pounds of luggage [Why 216?]. We have to report to Washington by 11 a.m. on August 28… There are rumors of a White House reception."

I remember envisioning a White House reception, based on earlier experiences at various bar mitzvah and wedding receptions. I expected a high class lawn party setting with gloved waiters in crisp white vests, circulating among us with canapés and drinks; we'd have an opportunity for casual 'cocktail party' chatter with the President, Shriver, maybe even Jackie. I was not alone in such thinking. Ruth Whitney said: "Georgianna and I wore our basic black dresses-now we kid about it all the time-and white gloves. She and I must have grown up with the same kind of mother who taught us what to wear for such occasions."




Caption: Members of Ghana I in training at Berkeley.

I think Peace Corps/Washington was content to reward us with a few days at home before the overseas adventure began. It could also serve other purposes: as of August, the Peace Corps legislation was working its way through Congress. Having us in our hometowns could and did generate local news stories such as: "Young Wilmette Man Leaves For Ghana"; "Graduate To Teach with Peace Corps in Ghana"; "Miss Vellenga In Ghana, West Africa" [in the Social News from a really local paper]; "Plainfield Teacher Chosen for Peace Corps in Ghana." We scattered from Berkeley for the brief leave to say goodbye to family and friends (and to buy our weight allowance of 216 pounds of clothing and supplies, trying to figure out how many handkerchiefs would be needed for two years).

Surely the most memorable of farewells was the one described by Alice O'Grady. She had continued through training to perform on weekends with a musical troupe, the Lamplighters, which was presenting Gilbert and Sullivan's 'The Mikado': "We did a show that night I left for Chicago. The director, who was also in the cast, at the end of each performance would step forward and say, 'Thank you for being such a good audience; we would like you to join the cast in the lobby for coffee.' That night she said, 'We're not able to join you in the lobby because one of our members is going overseas with the Peace Corps' and I stepped forward and had my first and only solo bow with that company. Got a nice round of applause. Then, because the plane was leaving soon, I changed but none of the cast did. They all went to the airport as Japanese schoolgirls, etc.-in their costumes. When they called the plane and I was about to leave, they all went down on one knee and sang 'Hail Poetry.' It was just beautiful. It's a lovely kind of hymn; not from 'The Mikado.' They presented me with a hobby horse, a horse's head on a stick, for me to travel to Ghana on. It was a very touching sendoff." [1997]

The Peace Corps program of road surveyors for Tanganyika was completing phase one of its training in El Paso at about the same time. The second phase was to be field training at a special camp in Puerto Rico. In transit between the two sites, they joined the Ghana group for a day in Washington. The White House setting, remarks by Kennedy, and approximately 75 bright, young, newly minted Peace Corps Volunteers would attract useful press coverage. The White House reception was in the Rose Garden, a very crowded stand-up affair on the hottest day of the year, with reporters and photographers outnumbering guests, but we did get to meet President Kennedy. It must have been a heart-warming sight to those lobbying for passage of the Peace Corps bill. Kennedy appeared with Shriver hovering near and spoke to us. Many of the group best remember Kennedy's remark: "So I hope you realize-I know you do-that the future of the Peace Corps really rests with you." We were comfortable with that, thanks to Apter, Drake, and the others at Berkeley.

That the "future of the Peace Corps" really depended on us had been stressed by Shriver earlier in the day when he spoke to us at a perfunctory State Department "briefing" which seemed designed to reassure the briefers, not especially to inform us. He told us, "The President is counting on you. It's up to you to prove that the concepts and ideals of the American Revolution are still alive. Foreigners think we're fat, dumb and happy over here. They don't think we've got the stuff to make personal sacrifices for our way of life. You must show them. And if you don't, you'll be yanked out of the ball game." We had faced eerie psychiatrists, seven varieties of psychological tests, chilling stories of boa constrictor attacks, and the perils of partying in Strawberry Canyon above the Berkeley campus (I never knew they produced such large bottles of wine). Shriver could not daunt us. We were ready- to teach, if not to sacrifice.

I must have been mulling over Shriver's exhortation because at the Rose Garden I was interviewed by Tom Wicker of The New York Times (in my mind that made up for the hiding, bearded, in the back row of all those photos). He wrote:

"Robert Klein … made it clear, however, that he and his fellow corpsmen had not been trained as political missionaries or assigned to preach particular doctrines.

He said that David Apter, a political science professor who headed the four-man faculty for the Ghana group's two months of training at the University of California, had stressed that each volunteer was going abroad as an 'individual with his own ideas.' "




Caption: Ghana I PCV Robert Klein meets JFK in the Oval Office.

After the Rose Garden speech, President Kennedy, in a stage whisper, had asked an aide how busy his schedule was because he wanted to greet each of us individually. He retired to the Oval Office and we paraded through, single file. Everyone has some memory of that part of the occasion. Don Groff recalled, "I remember just being kind of dumbstruck, going through the line. I do remember that I shook Kennedy's hand; as I moved on, he said, 'Ghan-err or Tanganyika?' And I told him, 'Ghan-uh.' "

For Nate Gross, it was a storybook experience with this special history:

"I discovered the existence of Jack Kennedy in an interesting way. In 1958 at college I was trying to go to sleep after staying up late studying and had the radio on. The music changed over to a talk program. I was half asleep but it was someone interviewing a politician. I noticed a New England accent. I was about to turn it off and go to sleep but the guy was answering in such an intelligent way that I wound up listening for an hour. I wanted to find out who was this politician actually talking so intelligently. It turned out to be Jack Kennedy. Later in 1959 he came to a convocation at Beloit College. Jackie was with him with her classic A line dress and pill-box hat. He gave a great little talk there. I later got to shake his hand during the Wisconsin primary. So I had great feelings toward Kennedy before Peace Corps. It was really wonderful to be at the White House even though in the receiving line the exchange was perfunctory. We didn't have any conversation. He just said 'Good luck' and shook my hand. I think some people had a few sentences." I interjected: "Newell did." Kiddingly, Nate responded: "He probably mentioned family friends." [1997]

In fact Newell did just that. He was the last in the reception line and said to President Kennedy, " 'I'm from Massachusetts too. And my brother was actually a roommate with your brother [Teddy] in college.' Then I said, 'I just want to say something myself. You've been under a lot of criticism, skepticism about Peace Corps. We're going to serve you well.' " As an aside, in our interview many years later, Newell said that he felt the comment was a bit 'saccharine.' [1997]

DeeDee Vellenga commented about the Rose Garden in her diary. DeeDee was a graduate of Monmouth College in Illinois and had taught for several years at Foxcroft, an exclusive school for girls in Virginia. We were not particularly close friends during training or in our early days in Ghana. We shared the common experience of being volunteers in Ghana I but little else. It was probably my New Yorker provincialism that exaggerated the distance between Junior High 136 in Harlem and Foxcroft and those who teach therein.




Caption: Members of Ghana I and Tanganyika I in the White House Rose Garden with President Kennedy.

DeeDee wrote: "The Rose Garden reception was unbelievably hot and confused with reporters, cameramen, wires, tape recorders all over the place. When Kennedy did try to meet us informally after his brief message, he was swamped so it was decided to let us file through his oval office and shake hands with him-I couldn't think of a thing to say to him-all I noticed was his piercing blue eyes. He paused for a moment and looked hard at me and then said, 'Good luck'-didn't know quite how to it! Meeting Shriver was very encouraging-he is down-to-earth and very dynamic in a gutsy sort of way. I think the Peace Corps has a real future if he continues to head it. Now it's up to us to see how things go in the field!"

The Washington whirl continued for us that evening with a party at the residence of the Ghanaian Ambassador, Mr. W. Q. Halm. Looking back it is remembered as a wonderful, hot and steamy introduction to Ghanaian hospitality. The Ambassador assured us that it never got as hot and humid in Ghana as it did in Washington D.C. We danced, ate, and drank for tomorrow we were, not to die, but to fly into the unknown of Ghana. After the Embassy party, Jim Kelly, Maureen Pyne, Ruth Whitney, and George Coyne (telling the story): "… went to a night club and then caught a taxi. We went to the Shrine of the Immaculate Conception. We wanted to say a prayer because we really didn't know what we were getting into and we wanted to light a candle. The cathedral was in complete darkness and we had to light matches to find the door but were able to get in."

It's reassuring that at least four of the group knew enough not to just curse the darkness but to light a candle. They were ready for whatever Ghana might bring.


---
Above the Trees and on the Ground, Ghana at Last


Caption: Members of Ghana I board "The Peace Corps Clipper" bound for Accra, Ghana.

On August 29 we went to National Airport to board our Pan Am charter, a four- engine propjet, dubbed The Peace Corps Clipper. Before boarding there were some technical matters to be dealt with. Peace Corps wanted to ship all of our luggage with us on the flight, no doubt calculating that, like a security blanket, arriving with our newly purchased towels, sheets, and underwear, would bring us reassuring comfort in our early days in Ghana. I do not know the payload of the good old Clipper but full fuel tanks and an additional 10,800 pounds of baggage (if we each had packed our allocated weight allowance of 216 pounds, x 50) might be a problem. Some seats were removed from the plane and each of us was weighed on the luggage scale. Getting this project off the ground may have been more difficult than we were aware.

Sue Bartholomew remembered: "We waited and waited and waited. Finally someone came to tell us they were taking seats out of the plane because we had all our luggage and that plane wasn't going to get off the ground. I thought it was funny. They even had to weigh us; then half the seats were gone. Howard [Ballwanz] had talked to the pilot and we joked about it. The pilot told Howard that there was something called Forest Airline, did a lot of charters. They got that name because with so many people on board they never got higher than the tops of the trees. The pilot said that's what we're doing. It'll take a couple of hours to make our altitude." [1997]

The flight took twenty-three hours, stopping in the Azores and at Dakar, Senegal, before arriving in Accra the next day, August 30, 1961. People recall the flight in different ways but all agree that there were two distinct groups-the singers and the card players.

Pat Kennedy was our escort officer, not out of fear that any of us would try to escape but to smooth the way in Ghana by assisting George Carter in getting us Here Today, Ghana Tomorrow 45 settled into our assignments. Pat had been involved with the development of the project from the very beginning. He had worked with the faculty to develop the training curriculum and then served as liaison between Berkeley and Washington, dealing with the nitty-gritty matters related to us becoming PCVs-documents, allowances, passports. His reward was a trip to Ghana.

The singers were people who, at Berkeley, would come together to sing madrigals for relaxation and their own enjoyment. Alice O'Grady, Tom Peterson, Valerie Deuel, Don Groff all had some musical training and sang beautifully. This was definitely not the Rathskeller Michael-Row-The-Boat-Ashore crowd. Thanks to the singers, Ghana I was able to rise to the challenge that Richard Thornell and the Ambassador had mentioned in a cable to Washington just before our departure:

"Planning high level reception PCVs at airport since this first group arrive abroad. Request most capable spokesman be selected make carefully prepared arrival statement. One other PCV might be interviewed Radio Ghana. Suggest group be prepared sing traditional Twi song learned Berkeley."

The challenge was that at Berkeley we had learned very little Twi and even fewer Twi songs but we did have great improvisational skills. The madrigal group, augmented, came to our rescue and not only learned the song, Yen Ara Asase Ni, but sounded good doing it. Someone, probably Pat Kennedy, had had the foresight to have copies of both words and music for this traditional Ashanti song. When the time came to sing at the airport after arrival, easily half of us stood in the back, moving our lips while the brave, strong voices of the true singers were being recorded by Radio Ghana. It was an instant hit with the Ghanaian radio audience as much for its novelty as for the quality of its performance. In our first few days of bus touring around Southern Ghana, several people commented, "Oh, you are the group that sang that Twi song. That was fine."

Back on the flight, the non-singers-the card players (Hearts)-had stormed through the transit lounge at the airport in the Azores during a refueling stop and stocked up on wine and cheese, which assured the continuance of the game and the avoidance of sleep, although, I'm sure most of us cat-napped during the flight. The flight also made a stop in Dakar, Senegal. This first step on the African continent was intoxicating. In the freshness of dawn, the air was warm and caressing, with the sweet fragrance of bougainvillea tantalizing the nose. We were touching the soil of Africa! We were giddy with anticipation and lack of sleep. I remember clumsily dancing around with frangipani flowers stuck behind each ear.

Nate Gross recalled: "Somewhere between Senegal and Ghana we were flying low enough to see the ground and some villages and huts and stuff. That's when I thought, 'Holy shoot, we're really going to Africa. Can I handle this? What's it really going to be like when we hit the ground?' " [1997]


Caption: Members of Ghana I on their arrival in Accra, Ghana 23 hours later.
We arrived in Accra and were met by a Ghanaian Ministry of Education welcoming committee. Ken Baer, an imposing figure and probably one of the few in the group comfortable wearing a seersucker suit, served as our solemn spokesman. Paraphrasing Shriver's remarks on his visit to Nkrumah in late April, Ken said, "We have come to Ghana to learn, to teach, to try to further the cause of world peace but above all, to serve Ghana now." We sang Yen Ara Asase Ni (some of us did, anyway) and then boarded buses to be taken out to the University of Ghana at Legon where we would have further training and orientation organized by the Ministry of Education. A lot had happened in the six busy months following President Kennedy's Executive Order of March 1st. The Peace Corps was now a reality.
---


Purchase a copy of "Being First"

Click here to order a copy of "Being First" from Amazon.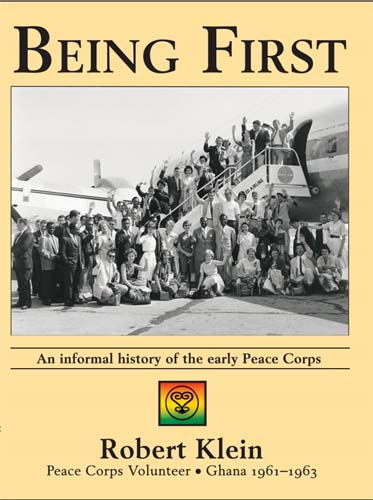 How did the Peace Corps move from idea to reality in just six months? Who were those who first served with the Peace Corps? What was it like to be a Peace Corps Volunteer in 1961? In 1961, after five years as a teacher in New York City, author Robert Klein answered President Kennedy's call to serve in the Peace Corps. He taught in Ghana for two years and then joined the Peace Corps overseas staff, serving in Kenya and in Ghana, where he was the country director from 1966 to 1968. In retirement, Klein has been the self-appointed secretary-convenor of the Ghana I group and has organized the Returned Peace Corps Volunteer Archival Project which collects Peace Corps oral histories in cooperation with the National Archives at the John F. Kennedy Library in Boston, Massachusetts.

Click here to order a copy of "Being First" from Amazon.


Caption: Members of Ghana I in reunion in Gloucester, MA in 2002.
---
Links to Related Topics (Tags):

Peace Corps Annual Report: 1961; Peace Corps Ghana; Directory of Ghana RPCVs; Messages and Announcements for Ghana RPCVs; The 1960's; Presidents - Kennedy
---
When this story was posted in February 2011, this was on the front page of PCOL:






Peace Corps Online The Independent News Forum serving Returned Peace Corps Volunteers




---

How Volunteers Remember Sarge
As the Peace Corps' Founding Director Sargent Shriver laid the foundations for the most lasting accomplishment of the Kennedy presidency. Shriver spoke to returned volunteers at the Peace Vigil at Lincoln Memorial in September, 2001 for the Peace Corps 40th. "The challenge I believe is simple - simple to express but difficult to fulfill. That challenge is expressed in these words: PCV's - stay as you are. Be servants of peace. Work at home as you have worked abroad. Humbly, persistently, intelligently. Weep with those who are sorrowful, Care for those who are sick. Serve your wives, serve your husbands, serve your families, serve your neighbors, serve your cities, serve the poor, join others who also serve," said Shriver. "Serve, Serve, Serve. That's the answer, that's the objective, that's the challenge."

---

---

Support Independent Funding for the Third Goal
The Peace Corps has always neglected the third goal, allocating less than 1% of their resources to "bringing the world back home." Senator Dodd addressed this issue in the "Peace Corps for the 21st Century" bill passed by the US Senate and Peace Corps Director Ron Tschetter proposed a "Peace Corps Foundation" at no cost to the US government. Both are good approaches but the recent "Comprehensive Assessment Report" didn't address the issue of independent funding for the third goal at all.

---

---

---

Memo to Incoming Director Williams
PCOL has asked five prominent RPCVs and Staff to write a memo on the most important issues facing the Peace Corps today. Issues raised include the independence of the Peace Corps, political appointments at the agency, revitalizing the five-year rule, lowering the ET rate, empowering volunteers, removing financial barriers to service, increasing the agency's budget, reducing costs, and making the Peace Corps bureaucracy more efficient and responsive. Latest: Greetings from Director Williams

---






Read the stories and leave your comments.


---


Some postings on Peace Corps Online are provided to the individual members of this group without permission of the copyright owner for the non-profit purposes of criticism, comment, education, scholarship, and research under the "Fair Use" provisions of U.S. Government copyright laws and they may not be distributed further without permission of the copyright owner. Peace Corps Online does not vouch for the accuracy of the content of the postings, which is the sole responsibility of the copyright holder.

Story Source: PCOL Exclusive

This story has been posted in the following forums: : Headlines; COS - Ghana; 1960's; Presidents - Kennedy

PCOL46707
79



Mr Robert krisko thaught me science in form 1 and made a huge impression on me in 1960/1961 there about in Ghana. I want to contact him.