Ron Tschetter: Newest Stories
---
Peace Corps Online: Peace Corps News: Directors of the Peace Corps: Peace Corps Director Ron Tschetter: Ron Tschetter: Newest Stories
---
Peace Corps Directors Ron Tschetter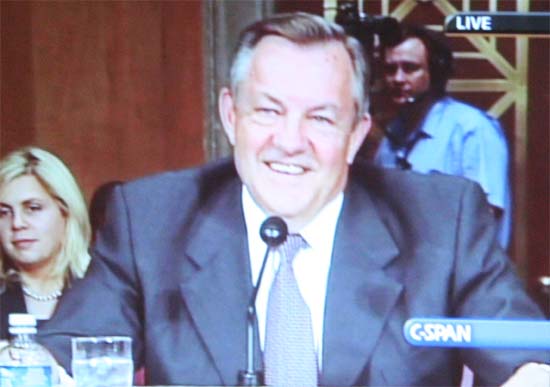 ---
---
---
PCOL readership increases 100%
Monthly readership on "Peace Corps Online" has increased in the past twelve months to 350,000 visitors - over eleven thousand every day - a 100% increase since this time last year. Thanks again, RPCVs and Friends of the Peace Corps, for making PCOL your source of information for the Peace Corps community. And thanks for supporting the Peace Corps Library and History of the Peace Corps. Stay tuned, the best is yet to come.
History of the Peace Corps
PCOL is proud to announce that Phase One of the "History of the Peace Corps" is now available online. This installment includes over 5,000 pages of primary source documents from the archives of the Peace Corps including every issue of "Peace Corps News," "Peace Corps Times," "Peace Corps Volunteer," "Action Update," and every annual report of the Peace Corps to Congress since 1961. "Ask Not" is an ongoing project. Read how you can help.
Would the director of the peace corp be interested in a proposal that will correct many of the nations economic problems with a strong possibility of leading to world peace? An independent study of the economic discipline of more than forty years have revealed discoveries that can solve many of the worlds problems that all too often lead to armed conflict. There's one common denominator that can unite people's of the world by understanding the narueal order economic science. Don E. Bryant Founder THE BRYANT INSTITUTE
Dearest one,

please sir i tolaly need your help for transcation of my late fathers fund that he deposited befor he die.i need to transfer the fund to your account.

Thanks
Yours kate.
Dearest one,

I need your help about my late father fund to be transfer to your account.

Thanks

Yours Mary.
By Ellen R. Sheeley (gut75-2-82-66-246-203.fbx.proxad.net - 82.66.246.203) on Saturday, October 20, 2007 - 9:24 am: Edit Post
I am an RPCV from Western Samoa (1983 to 1985). I've since worked in Jordan a number of times and lived there, too. When I lived there, I was working on "honor" killings. Before I left, people asked me to write a book about my work, so I did. It is called "Reclaiming Honor in Jordan," it was published just this year, and it is available on the American version of Amazon.com.

Please feel free to share this information with any RPCVs from the region, any incoming PCVs to the region, any regional administrators, and other interested parties.

Shukran!

Ellen R. Sheeley